Clarksville, TN – The Tilted Kilt in Clarksville, hosted their first Chive Unofficial Meetup on Saturday night, and had a huge turnout. The meetup was presented by Budweiser of Clarksville and was a benefit for the Folds of Honor Foundation, which provides scholarships to children of soldiers killed or injured while in the line of duty.
"TheChive, is a photo entertainment website with cultlike fans," said Laura K. Thornton, Marketing Coordinator for Tilted Kilt Clarksville. "The website features funny internet memes, sexy girls,and things like that. The fans of this website are really crazy about it. The Chive has reached out to their fans for assistance in charitable causes via the website, and have raised over $100,000 for several of these causes, often within hours."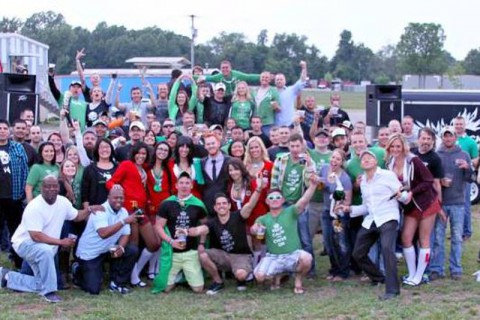 About half of the Nashville Chive group poses for a photo during the Nashville Chive Unofficial Meetup at Tilted Kilt in Clarksville, TN
She continued, "It started the charity aspect of the website and its fans. So the website itself does charity work, and in addition different chive chapters have sprung up all over the world, and they get together and enjoy each other's company and donate to different charities themselves.
Chive Charities points out that theCHIVE community has become famous as "easily the most generous community on the web today." They do a lot of great things by providing a focus for the generosity of their membership, "Our flash charity campaigns have garnered national recognition time and time again. Whether it's purchasing a safe room for a little girl with SMS or helping a soldier who lost all his limbs serving in Afghanistan build his dream log cabin, the Chivers have always stepped up to the plate and knocked it out of the park."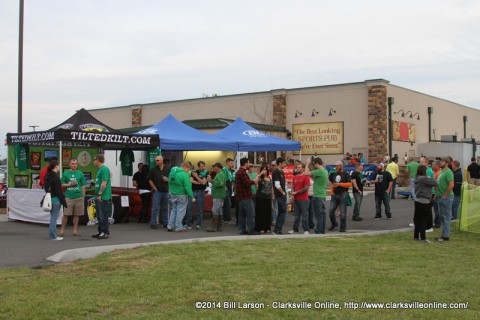 The Nashville Chive Unofficial Meetup's festivities begin outside the Clarksville Tilted Kilt Location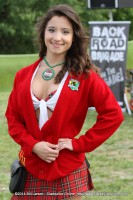 Thornton then spoke about the the festivities going on that evening at Tilted Kilt in Clarksville, "Tonight Tilted Kilt in Clarksville Tennessee is holding a unofficial meet up for the Nashville Chive chapter. We are raising money for the Folds of Honor program which helps provide the family members of fallen soldiers with college scholarships. Budweiser of Clarksville is our presenting sponsor, and our other wonderful sponsors include Clarksville Online, the Joe Padula Show, SSF Submission Academy, and Touchgolf Products.

Budweiser and all the Tilted Kilts nationwide actually partner for a fundraiser Memorial Day through Fourth of July called "Here's To The Heroes" where we will be selling paper dogtags, and the proceeds will go to benefits Folds of Honor as well.  So we are using this event to kick off that campaign with a big bang! We are thrilled with the turnout for this event from both the Chivers and our other local customers."
Backroad Brigade provided the entertainment, coming off of their very successful performance at Clarksville's Rivers & Spires festival.